Roy Moore (right) attacks Jim Finney (left) with his knees during the first fight of Midwest Cage Championship 45, January 25, 2013. Moore would defeat Finney, in the first round, through a total knockout.
---
A young protestor leads chants, in the spring of 2011, against Ali Abdullah Saleh, president of Yemen, at a pro-democracy rally in front of the White House. The rallies were meant to support the pro-democracy uprisings of Arab Spring.
---
Members of the Capital Area Budokai, Alexandria, Va., practice battodo, the Japanese art of sword drawing.
---
A lone Muslim prays in front of the White House during rallies in Washington, D.C. He comes to pray in front of the White House on a regular basis. The rallies, held during the spring of 2011, were meant to support the pro-democracy uprisings of Arab Spring.
---
A player (left) from the Clarke High School, Osceola, Iowa, girl's high school rugby team attempts to avoid a player from Valley High School, West Des Moines, Iowa, during the Iowa High School Rugby Association Girl's Championship. South East Polk High School, Pleasant Hill, Iowa, went on to win the championship, held on October 13, 2012.
---
A member of the Little Cyclones wrestling team, Ames High School, Ames, Iowa, winces as he wrestles a member of the Hawks wrestling team, Ankeny High School, Ankeny, Iowa.
---
Lois Reichert prepares a morning meal for her goats after milking them. Reichert, an award winning goat-cheese maker, initially started raising goats to provide milk for her son; he is allergic to cow's milk.
---
Mike Ratelle (left, 21) of the Drake University, Des Moines, Iowa, Bulldogs football team, stiff-arms Brian Akialis (right, 80), of the Butler University, Indianapolis, Ind., Bulldogs football team during a punt return. Ratelle had two punt returns on the day; the first for 14 yards and the second for 32 yards. Drake won this battle of the Bulldogs by a score of 45-20.
---
Stan Johnson, assistant coach of the Drake University Bulldogs men's basketball team, Des Moines, Iowa, addresses members of his team during a time-out, in a game against St. Mary's College, Moraga, Calif. The Bulldogs struggled against the defense of the Gaels of St. Mary's; eventually losing 88 to 73.
---
Powered by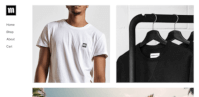 Create your own unique website with customizable templates.